Introducing our favorite fragrances created by RAF. The perfect gifts for the holidays.
RAF Charvet 15ml is inspired by its joyful, radiant and elegant charm. The intriguing fragrance of an orange blossom plays with its radiant personality. Like that elegant lady greeting her peers in bright, cool, calm Monday morning. Her scent of joyfulness brings smile to their faces like the warmth of the sun that just touched their skins.
RAF Haley 15ml. The notes of neroli, Ylang-Ylang, bergamot, lemon and aldehydes are the first you'll smell from this classic, warm lady expressing her shy, conservative character during a fine dining experience. Her long-lasting, soothing scent can elevate the mood of the night.
RAF Happie 15ml (Unisex) is fresh like the sea air. A touch of nature's breath. Confident, so till and serene. Yet, its fragrance is oozing secureness, freshness and perhaps that feel-good presence.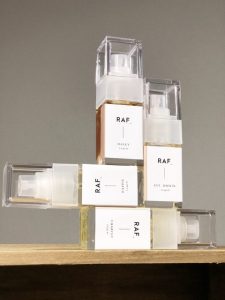 RAF est. MMXIX 15ml (Unisex) The all time favorite RAF fragrance  is now on 15ml spray! This would be your head-turning perfume. With its scent of Limone (citron) with a dash of pink pepper, white musk, vetiver and patchouli, it becomes noticeably confident, attractive and sexy. 
These collection of perfumes are distributed by RAFXCHANGE for RAF™️ Brand. These perfumes are products of high quality oils that is meant to last on your skin for hours. It is perfect for travel, gifting and special events. Collect all 4 items today and let your body talk.